From Hungary to Herøya to contribute to a better world
At Herøya in Telemark, automation engineer Áron János Tóth (43) and his colleagues at Yara are working on a very special project. The result could lead to one the largest single cuts of greenhouse gases in Norway ever.
Produced by Schibsted Partnerstudio on behalf of Powered by Telemark.
"It's nice to work with something that contributes to a better world, says Áron, engineering manager at Yara in the pilot project "Skrei".
According to Yara, the pilot project on Herøya is the first of its kind in the world. Together with the German chemical company Linde, they are working to make all fertilizer production on Herøya emission-free by 2030. This is done by converting from natural gas to renewable energy in the production of green hydrogen and ammonia. Enova supports the project with NOK 283 million. The Norwegian Prime Minister Støre visited Herøya and was responsible for the official opening in March.
"Everything we learn in "Skrei" will have a number of positive ripple effects", says Áron.
With origins in Hungary and project experience from several countries, Áron has a great deal of knowledge to bring to the pilot project. He finds motivation in his family and the facilities in Porsgrunn.
From Hungary to Telemark
Four years ago, Áron, his wife Katalin Tóth-Onodi (46) and their three children moved to Flåtten in Porsgrunn. Áron and Katalin met for the first time in 2005 at the large Hungarian fertilizer manufacturer Nitrogénmüvek, but Áron's experience and expertise were in demand by Yara, and since 2013 he has worked for the Norwegian fertilizer producer.
"After moving around quite a bit, it was time to establish ourselves for good. Then there is no better place than Norway. It is safe here. For example, my daughters can use public transport alone. You don't do that in Hungary and many other countries", says Áron Tóth.
Today, both Áron and Katalin work in Herøya Industripark: Katalin at Ranold in Forskningsparken and Áron as technical manager at Yara International. Together with 190 students from 25 countries, daughters Julia (13), Zsofia (11) and Eszter (9) attend the renowned International School Telemark.
Here children have much more freedom. We lead a comfortable life here. Porsgrunn is a nice place with a short distance to most things. In the winter we often go downhill skiing, in the summer we go swimming. Porsgrunn is a small town with a big offer. Not least when it comes to culture and restaurants, says Katalin.
Will become one of the greenest industrial areas in the world
Yara on Herøya is just one of over 100 companies in the area working on several projects for a greener world. Much of the collaboration takes place in the technology cluster Powered by Telemark. If they succeed, CO₂ emissions will be cut by a total of 2.4 million tonnes.
Áron at Yara highlights the important collaboration between colleagues and other companies in the technology cluster.
"We speak the same "language", academically and business-wise", he says, and is excited about the good cooperation with German Linde.
With world-class knowledge, a clear vision and goals, it is possible for Herøya to become one of the greenest industrial areas in the world.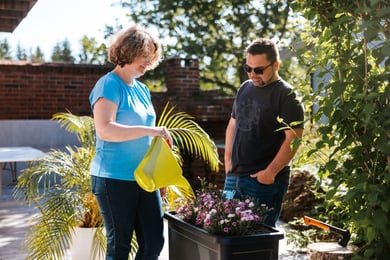 Áron János Tóth and Katalin Tóth-Onodi are happy with the quality of life in Porsgrunn. Photo: Vegard Giskehaug.